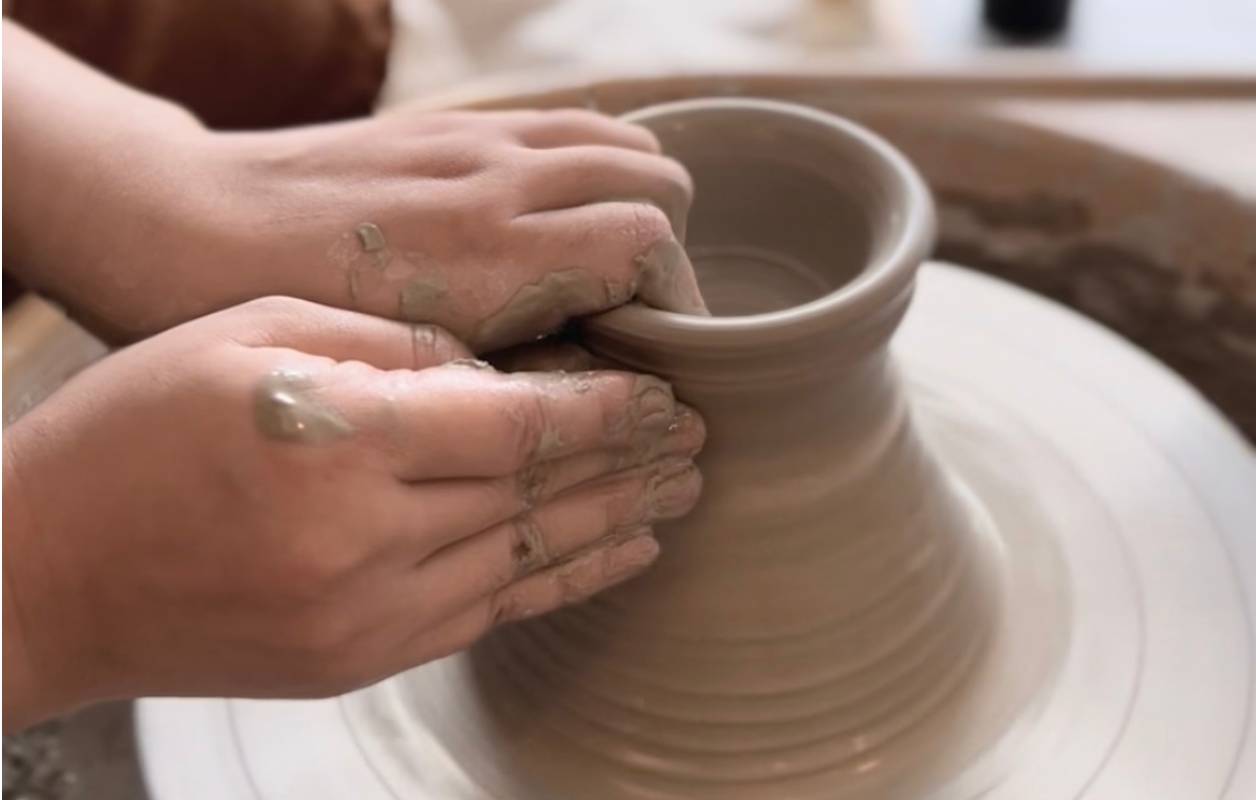 4 Sessions Regular Wheel Throwing Short Course [12 hours]
Learn Pottery on the Wheel with us! Embark your pottery journey in vessel creation beginning with an introduction to wheel-thrown pottery, which includes learning the techniques of centering, throwing, trimming, and glazing.

Students signed up for this course will start from Basic l and develop their pottery skills progressively towards Basic 2 then proceed to Intermediate and Advanced level upon achieving different levels of pottery wheel mastery.
Our regular wheel throwing short course is conducted weekly over 4 consecutive sessions. Pick a session of your choice to get started!
– DATE & TIME /
Tues & Fri – 10am – 1pm
Sat & Sun – 10am – 1pm / 2pm – 5pm
– VALIDATION /
60days (start counting from 1st lesson)
No fixed class schedule , choose any preference slot above
– FEE /
Basic RM960 | Inter RM1,080 | Adv RM 1,200 [per level]
– SYLLABUS /
6 levels (4 sessions for each level)
* Basic 1 – 300g cylinder | 300g bowl (12 pieces)
* Basic 2 – 300g saucer | 500g plate (10 pieces)
* Basic 3 – 500g vase | 750g or 1kg vase (8 pieces)
* Inter 1 – [double wall] 500g candle holder ,1kg donut vase (not included firing for all pieces)
* Inter 2 – 1kg plate | 1kg bowl (not included firing for all pieces)
* Advanced – [Body, lid, knob, spout ,handle] Teapot (not included firing for all pieces)
– MATERIAL / Free-flow of clay
– WHAT YOU'LL LEARN /
Learn how to prepare clay by wedging, centring, throwing, trimming & glazing [4 sessions each level, which included 2 sessions wheel throwing classes ,1 session trimming ,1 session glazing]
– 6 pax /session


🔥 Firing fee / RM60 per kg (included bisque & glaze firing)
* This short course is suitable for students who want to learn pottery wheel from basic to advanced as hobby or future career
* L1/2/3/4 = Lesson 1/2/3/4
* The weight of clay (gram) we mentioned above is the portion of each clay ball for students to practice in each level classes ,beginner starts from smaller portion.
Beary Potter Studio (Balakong)
A-7-1,Jalan C180/1,Dataran C180 Balakong, 43200 Cheras, Selangor, Malaysia
Beary Potter Studio (Bukit Jaill)
No. 2-43, Residensi Park Bukit Jalil, Persiaran Jalil Utama, Bandar Bukit Jalil, 57000, Wilayah Persekutuan Kuala Lumpur
Tel: +603 9765 8708