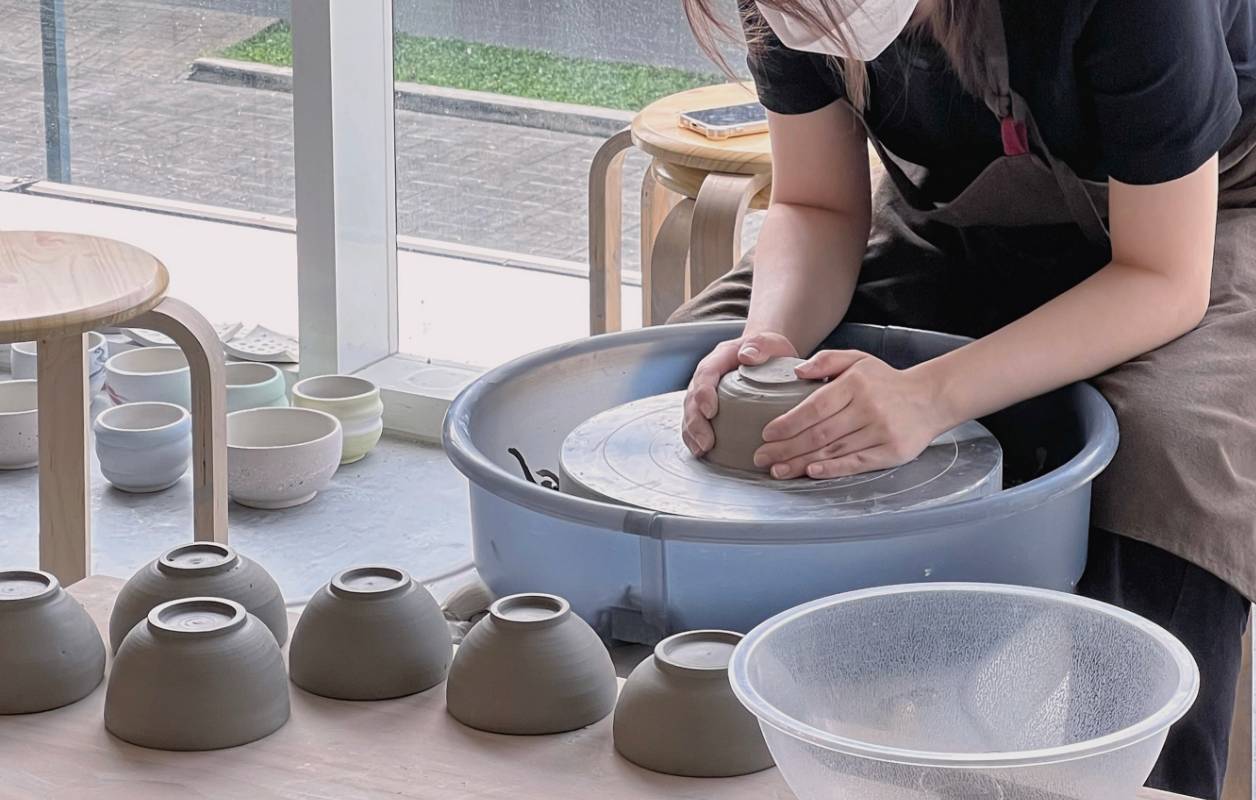 8 sessions Intensive Wheel Throwing Short Course : Making tableware set – Cup , Bowl & Plate form [24 hours]
This is an intensive short course, make your own tableware in cylinder, bowl and plate form, each form with 2 designs. This course is available on Tues or Fri only.
This class is for beginner. All participant to be 15 years old and above. 4pax per group in safety distance.
Becareful, we'll train really hard in this class..
8 Sessions x 3hours (Total 24hours)

– DATE & TIME /
Tues 10am-1pm : March 8 | 15 | 22 | 29 | April 5 | 12 | 26 | May 3
Fri 2pm-5pm : March 4 | 11 | 18 | 25 | April 1 | 8 | 15 | 22
– FEE / RM 2,240
– SYLLABUS /
* Day 1 – Throwing – 300g cylinder (2 TYPES)
* Day 2 – Throwing – 300g & 500g bowl (2 TYPES)
* Day 3 – Trimming
* Day 4 – Throwing – 500g & 750g saucer (2 TYPES)
* Day 5 – Throwing – 750g & 1kg plate (2 TYPES)
* Day 6 – Trimming
* Day 7 – Glazing
* Day 8 – Glazing
– MATERIAL /
Free-flow of clay, 5kg pottery pieces included for firing (extra fee applies if overweight)
Learn how to prepare clay by wedging, centring, throwing, trimming & glazing | Learn how to take control of 300g-1kg clay | Learn how to make all basic tableware forms eg. Cup (cylinder) , bowl & plate ,each form with 2 designs
– WHAT YOU'LL LEARN /
Learn how to prepare clay by wedging, centring, throwing, trimming & glazing | Learn how to take control of 300g-1kg clay | Learn how to make all basic tableware forms eg. Cup (cylinder) , bowl & plate ,each form with 2 designs
– 4 pax /session
PLEASE TAKE NOTE /
Fixed class schedule , no class replacement if absent .Please make sure you can commit your time before booking.
🔥 Firing fee / RM60 per kg (included bisque & glaze firing)
Beary Potter Studio (Balakong)
A-7-1,Jalan C180/1,Dataran C180 Balakong, 43200 Cheras, Selangor, Malaysia
Beary Potter Studio (Bukit Jaill)
No. 2-43, Residensi Park Bukit Jalil, Persiaran Jalil Utama, Bandar Bukit Jalil, 57000, Wilayah Persekutuan Kuala Lumpur
Tel: +603 9765 8708